Shepherd's Pie
I think it's interesting my husband loves casserole type dishes but when he eats a regular meal he eats one thing at a time off his plate. I eat everything mixed up together on my plate and I'm actually less than thrilled with casserole dishes where everything is mixed up on purpose. It's hard to find casserole meals that don't call for msg laden soups acting as the flavor and thickener to pull things together. Lots of things call for cans of soup! I once looked up how to make cream of chicken soup and the recipe called for a can of condensed cream of chicken soup! Really!? This seriously takes away from the original intent of making a homemade meal. With the exception of chicken pot pie and taco bake the kids aren't crazy for casseroles either, so that can also be a challenge.
Ricky has always wanted me to make him shepherd's pie. Honestly shepherd's pie looked gross to me. I was such a little kid about it. But just look at this
picture
, seriously! I just don't think it looks good at all. It always seemed like it was having mashed potatoes with ground beef instead of gravy.
I was vegetarian but starting to transition back over to meat when Ricky and I met, so I had a lot to learn about cooking meat, especially country/home cooking. I have learned to make tons of other dishes since, including an awesome Salisbury steak with mashed potatoes and gravy. I kept plenty busy making other things over the years, but I avoided shepherd's pie like the plague...
I would do anything for love but I won't do that.
(After typing that I have
MeatLoaf stuck in my head
SO BAD!
My poor kids, I'll be singing that all day now. Oh my, 1993. lol.)

I'm a pie maker at heart and so a good 'ol chicken pot pie with homemade crust comes naturally for me. Plus chicken pot pie is a pretty package tucked under a tender crust. It's moist and mild. It's down-home comfort food. (That's another dish that's near impossible to find a recipe that doesn't include canned soup!) Ricky liked chicken pot pie okay, but would drop the Shepherd's pie hint every time we had pot pie. I have a real aversion to putting ground beef in everything under the sun. I pretty much reserve ground beef for hamburgers. Big, thick, juicy, veggie and cheese topped, dripping with ketchup, grilled burgers! Also: Salisbury steak, meatballs, taco bake, meat loaf, and stuffed peppers are all suitable uses for ground beef to me. Sticking it in a casserole dish with mashed potatoes was just not appealing to me. Mashed potatoes go with turkey, fried chicken, smothered pork chops, meatloaf, roast, Salisbury steak... but not ground beef! I grew up with stuff like Hamburger Helper which is probably where the entire aversion came from.

A couple months ago I finally got bored enough with meals to try Shepherd's pie. I wanted to make it to surprise Ricky. Work has been super stressful and he wasn't eating as much as he should (stress can suppresses the appetite). My first shepherd's pie was a success. The kids even liked it. It looked better than most the ones in pictures, but still kinda gross. It was pretty good though. It was not bad at all. Ricky said it was "very good." My second attempt was last night where I tweaked some things and more confidently prepared it. It turned out AMAZING! The mashed potatoes on top were crisp at the peaks and edges and the inside was bubbling up around the edges. The filling was perfectly seasoned and just saucy enough to be like a gravy for the mashed taters but not soupy. Ricky said it was totally *delicious* with a lot of enthusiasm and he couldn't believe how much better I had gotten it this time. I love the baked corners and peaks of potatoes. *pats self on back* The extra "gravy/sauce" in the pie really made it awesome. Plus I had baked it perfectly (credit the vintage stove, which is the most amazing thing I've ever owned, ever).
I'm going to make it again this weekend while I carefully write down my recipe. Then I shall share it for all who, like me, fear the shepherd's pie! Reading online I have learned that shepherd's pie is technically supposed to be made with lamb, but it can be made with ground beef at which point it is then called cottage pie. Technicalities.
The mashed potatoes reminded me of yummy twice-baked potatoes! And technically they are. (Boiled and then baked) They were so good! Seasoned and browned to perfection.
This looks saucy, but when we were finished the sauce was all gone. The pan was dry and so were our bowls. We ate every last drop and it mixed in well. Some people use only peas and carrots while others use peas, carrots and corn. I buy an organic mixed veggie blend so ours has corn. Ricky isn't crazy about corn and ground beef together, but for Shepherd's pie he says it is appropriate. (Appropriate use of corn is actually a very funny discussion in my house LOL. A lot of my Dad's family is from Iowa and we use corn a lot, and in "everything." According to my husband's observations anyway. Hahaha.) The family gobbled this up so fast I'm going to have to start making two casserole pans, or one big one and a small one. At some point as these little kids get older we will be a two casserole dish family! Wow!




More food Stuff...
This is my favorite summertime dish:
Ricky smokes the salmon and we use it in lettuce wraps topped with mango and black bean 'salsa.' The salsa is super easy. Lime juice, black beans, tons of cilantro, and lots of chopped mango. You could add salt if you wanted, we dd not. The corn is
roasted with lime-chili-butter. The lime chili butter is SO GOOD. I make it with melted butter, chili powder, a dash of seasoning salt, salt, sprinkle of pepper, a pinch of paprika and cayenne pepper. Use as a dip for corn or anything else. (Rolls! lobster! Shrimp! Endless possibilities here!) You can experiment and make your own buttery dip with seasonings.
Date Night in the Backyard!
Last month the kids were away visiting Aunt Sharon and so I surprised Ricky with a seafood extravaganza dinner for two! Yummy salad, lobster, crusty grilled cheesy garlic bread (garlic bread on the grill is GREAT!), shrimp, oysters, escargot, steak kabobs, and a brown rice-quinoa boxed dish. Beatrice is still little and nurses so she was with us, she LOVED the rice. I wanted to take a picture of her nomming the rice down in her high chair but the camera battery died. It was a really fun dinner! After the baby went to bed we had a fancy carrot cake cupcakes I bought, and coffee for dessert.
A couple years ago I was really excited to make Salisbury steak from scratch and it was actually pretty easy. Recipes online called for
beef bouillon, canned soups, or gravy mixes! I refused! That's not from scratch.
I was really proud of this super flavorful gravy, made from pan drippings and mushrooms
!
I had the same happy experience when I learned to make chicken fried steak. I really love home cooking. (I think I enjoy feeding my husband more than myself!) So many of these skills are lost since people don't grow up with as many home-style meals these days. People are busy doing other things and so homemaking is a lost art. People also
fear real fat
and don't widely buy healthier raised meats (less fatty). Our meats are all locally raised and much of it from Ricky's parents' farm. I'm happy that there is definitely a resurgence and trend of stay at home families, do-it-yourselfers, and backyard gardeners. Most of the people I know cook at home, but I also know many people don't these days.
Healthy Super-food Salad
Last but not least, I re-purposed the leftover salmon and mango/black beans from the Salmon salad above and spooned it onto a salad mix of shredded broccoli, shaved brussels sprouts, chopped cabbage, curly kale, and chicory. This was fantastic and I'm not even a big fan of kale (bitter to me)! I just put some extra lime juice on it, no fancy dressing needed. This is a new favorite that I have to make for Ricky. I got the bag of 7 super food greens from Costco. Looks like this: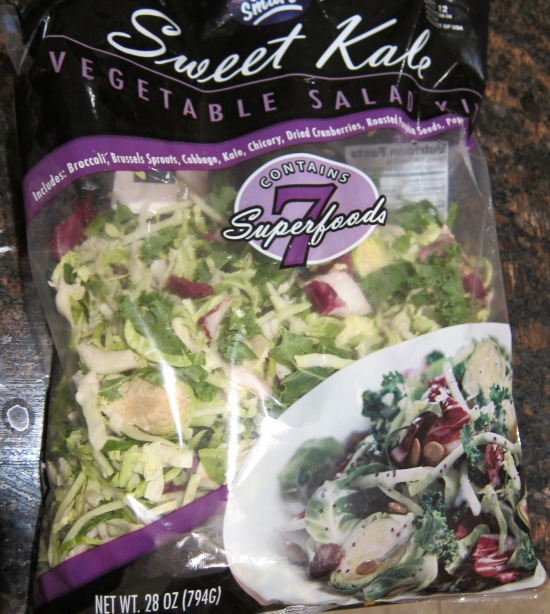 Mix comes with dressing, cranberries, and pumpkin seeds included. I haven't tried them though. I bought it for the greens.